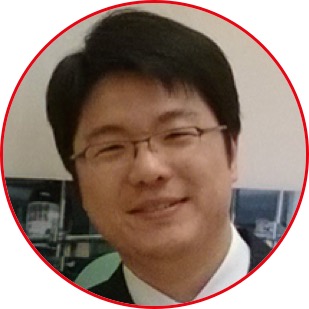 Department of Chemistry, National Tsing Hua University, 30013 Hsinchu, TAIWAN
Cobalt mediated controlled/living radical polymerization: from mechanism understanding to materials application
Cobalt mediated radical polymerization (CMRP) is famous by controlling the radical polymerization of unconjugated monomers particularly for vinyl acetate (VAc). Given by the understanding to the mechanism of CMRP, we successfully combined the technologies of CMRP and ATRP (Atom transfer radical polymerization) to solve the issue in direct synthesis of conjugated and unconjugated block copolymers.[1]
In addition to the mechanism study and methodology development, we attempted to expand the application of block copolymers to the fields of materials and drug delivery. The block copolymer of poly(methyl acrylate)-b-poly(vinyl acetate) was obtained by cobalt porphyrin (Co(TMP)) mediated radical polymerization and then was hydrolyzed to poly(acrylic acid)-b-poly(vinyl alcohol) (PAA-b-PVA). The free standing membranes of PAA-b-PVA surprisingly own a much higher tensile strain (> 600%) than those made by homopolymers and polymer blends. A series of studies using cross-section SEM images, IR spectrum, and SAXS indicated that the formation of nanostructure in the block copolymers prescribed a considerably larger amount of interface which could enhance the tensile properties drastically.[2]A core-corona micelles formed from the triblock copolymer of poly(ethylene glycol)-b-poly(N,N-dimethylamino-2-ethylmethacrylate)-b-poly(pyrenylmethyl methacrylate) (PEG-b-PDMAEMA-b-PPy) that undergo trinity-phase transition in response to light- and pH-stimuli. These triblock copolymer micelles can carry the siRNA with high stability in physiological condition and efficiently release the siRNA after the light irradiation. The nano-structural transformation was investigated to rationalize the high contrast between the stability and release efficiency before and after the photo irradiation.[3]

References
Chen,Y.-J.; Wu, B.-J.; Wang, F.-S.; Chi, M.-H.; Chen, J.-T.; Peng, C.-H. Macromolecules 2015, 48(19), 6832.
Wang, F.-S.; Wang, T.-F.; Lu, H.-H.; Ao-Ieong, W.-S.; Wang, J.; Chen, H.-L.; Peng, C.-H. Macromolecules 2017, 50, 6054.
Lu, H.-H.; Huang, C.-H.; Shiue, T.-Y.; Wang, F.-S.; Chang, K.-K.; Chen, Y.; Peng, C.-H. Chem. Sci. 2019, 10, 284.